BGF 2019 special guests will be announced as they are confirmed. Below are our 2018 special guests.
Richard Borg
Welcome back to Richard Borg, our 2018 Guest of Honor.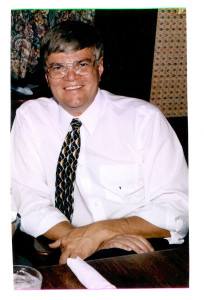 His career began with an idea for a game that was a variation of a game he played with his softball buddies using the numbers in dollar bills called "liars poker". Richard self-published this first game called Doubters Dice in 1987, it was discovered by a representative of Milton Bradley (now Hasbro, Inc) during a game convention in Lake Geneva, Wisconsin. The game was licensed as Liars Dice and made it to market in 1988.
Following his first game there were a number of designs for TSR Hobbies and a series of Marvel games for Pressman Toy. In 1993 FX Schmidt brought Liars Dice to Germany as Bluff and won the German Prize Spiel des Jahres.
Richard was a partner in the Star Wars customizable card game design team published by Decipher in 1995 and was also involved with a number of other CCGs during their peak. Richard also enjoys family cards games and has successfully licensed a number of card games through his career.
Battle Cry, published by Avalon Hill/Hasbro in 2000, was the seed to many other successive award winning titles using Richard's Commands & Colors war game mechanics including; Memoir '44, Command & Colors Ancients and Napoleonics, BattleLore, Samurai Battles, and the latest Tricorne American Revolution.
Richard's professional game credits cover a broad spectrum, which includes over 60 published titles and expansions. Because his body of work does encompass so many age groups and genres, you just may have one or more of Richard's designs in your personal game collection.
Special Guests 2018:

There are a host of other special guests attending Buckeye Game Fest. When you see one, feel free to say hi!
Jonathan Anglin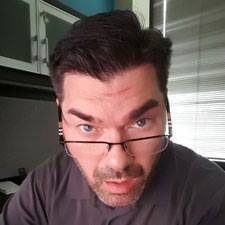 The other half of Laboratory H and fellow CABS member, Jonathan utilizes his skills and experience in the graphic design field to take what Jeff and Carla hand him and turn it into a stunning game. His first experience came with NNG's Panic last year where he got a behind-the-scenes look at how the industry worked. This year he has been the mastermind behind the look of Dark Domains. A designer in his own right, his first game, Peacekeeper will be released in the future from Laboratory H.
Raymond Chandler III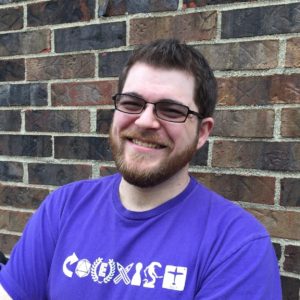 Raymond has always loved games since being introduce to board gaming at a young age by friends and family. In 2004 he had the esteemed honor of studying the art of game making under the father of modern role playing games, Dave Arneson.
Raymond is completely in love with "the hobby" and has obsessively been playing and designing games ever since. After 10 years of intense research and experimentation with multiplayer game dynamics, Raymond partnered with Artana's Dirk Knemeyer to create "Corrupted Kingdoms", which was published in 2016.
His new game, City of the Big Shoulders will be on Kickstarter later this year, which was named "The Best Game at Gencon 50" by Heavy Cardboard, and has received critical acclaim by reviewers and everyday gamers alike.
Elder Entertainment – Mayghin & Eli Levine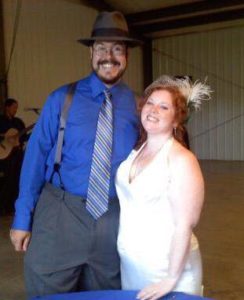 Hailing from Louisville, Ky., Mayghin and Eli Levine have returned to BGF for more Lovecraft-inspired role-playing events. Between homegrown LARP systems and numerous games under the Dread system (think Jenga where characters' lives are at stake), they've been scaring attendees at BGF, Origins, GenCon, and other regional cons for years. Their motto perfectly describes the atmosphere they create for their players: "There's nothing we can do to you worse than what you're about to do to each other."
Travis and Holly Hancock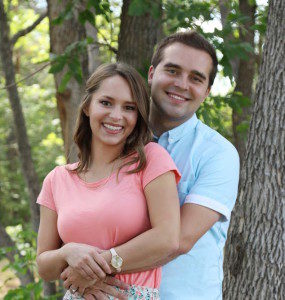 Facade Games creates games that are simple, smart, and sleek. It is is based in Columbus, Ohio, and run by Travis and Holly Hancock. Our goal is to make board games with:
Flawless, unique mechanics
Accessibility for the casual gamer
Original, interesting packaging
Beautiful illustration and design
Salem was our first project and raised over $100,000 on Kickstarter in spring 2015. Once that happened we began working on games full time! Our second game, Tortuga 1667, raised $400,000 in early 2017. Both games have now sold over 20,000 copies and are played around the world! Our third game, Deadwood 1876, raised $587,000 on Kickstarter in March 2018. It is available now for pre-order and will be released this fall.
Jim Harmon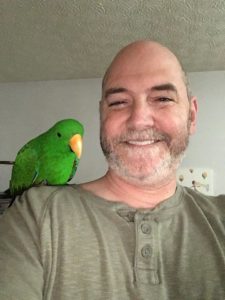 Jim grew up playing all kinds of games. He went through various phases including war games, Dungeon & Dragons, Magic the Gathering and eventually modern board games. He has always been interested in game design and around 2008 he decided to pursue plublication of some of his designs. His published games include The Princess Bride: I Hate to Kill You (with John Harmon), Te Kuiti (with William Baldwin) and most recently Broadhorns: Early Trade on the Mississippi. His upcoming game Lighthouse Run will be released my Amigo Spiele later this year.
Lucas Hedgren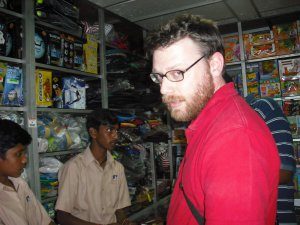 Lucas likes playing, studying, designing, developing, explaining, describing, breaking down, understanding, reading about, writing about, and thinking about boardgames. Subdivision was his first published design, in 2014, from Bezier Games. Lucas writes off and on for OpionatedGamers.com and lives in Dublin, Ohio with his wife, daughter and two dogs.
Patrick Hillier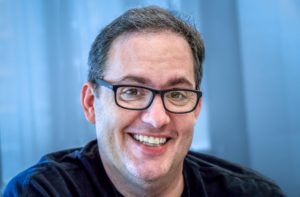 Patrick Hillier is a board gaming media creator, active Twitterer and a longtime contributor to the What Did You Play This Week Podcast, a boardgaming review and discussion podcast. From his "studio" in Kettering, Ohio, he records Patrick & Eric in the Morning for WDYPTW, as well as interviews designers and publishers for a second show called the Conversation Thing on the same podcast feed. Patrick also regularly co-hosts The Cubist, a weekly live YouTube gaming chat that features different guests.
In addition to being active in his local Dayton-area gaming community, Patrick is a convention junkie who travels across the state and country, and enjoys meeting fellow gamers to play new and old games as his Twitter handle @overthehillier may imply. If you see him at the convention, say hello and ask to play a game — he's always happy to teach or learn! Patrick also likes puns.
Jeff and Carla Horger
Designers of numerous games for GMT Games, Rio Grande, Game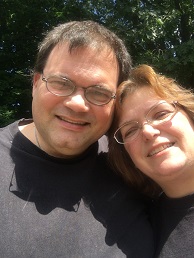 Salute, Eagle-Gryphon and now Laboratory H. Their previous credits include Thunder Alley, Grand Prix, Fast & Furious: Full Throttle, 20th Century Limited, Orient Express and Manoeuvre among others. Currently they have Apocalypse Road on the GMT P500 and Dark Domains currently on Kickstarter. They have both been CABS members for at least 10 years, during that time Jeff has served on the board twice. Their latest enterprise, Laboratory H is primed to become their most successful to date.
Cassadi Thomas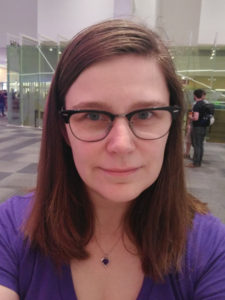 Hi, I'm Cassadi. I've been part of the gaming hobby since the late 90s. Starting with RPGs like Vampire: The Masquerade and Dungeons and Dragons. It wasn't until 2001 that I really started getting into hobby board games.
Because of my love for the hobby I worked with Crystal and Ambie of Board Game Blitz fame for almost two years, and I'm now working with a wonderful group of people over at The Shuffle.
Outside of the fun board game work I'm doing I do have a full-time day job in which I assess IT risk. I also wrangle a toddler beast and corgi and try to find time to relax with one hobby or another.
Dale Yu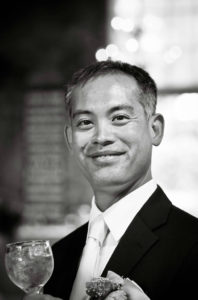 Dale Yu is an enigma wrapped in a mystery shrouded gaseous mist which is hidden by that large stack of game boxes that pretty much blocks your view no matter what angle you try to take. He is well known in some circles as being a square peg. He is also often confused for his brother. While this generally leads to some embarrassing situations, it's never quite certain whether Dale or his brother should be more offended to be mistaken for the other. Dale has never been mistakenly identified as OMG!Melissa… (yet). Dale has designed about a trillion games which are all quite good. Dale is also a prolific liar in his online musings.
When he's not writing or playing boardgames, Dale works as an Internal Medicine physician in Ohio.  He also spends an inordinate amount of time transporting his two children to various athletic events.
Finally, Dale must admit that he finds is quite awkward to write about himself in the third person.  Someday, he aspires to become the Most Interesting Boardgamer in the World.