We are currently accepting application for sponsorships for Buckeye Game Fest 2019. If you or your company are interested in sponsorship, please head over to tabletop.events to apply to be a sponsor. 

Upon application approval, you will be notified and given the chance to select the sponsor level you designer.

Note: if you are looking to give In-Kind donation equivalent OR more than the Cash amount at checkout, please email kristing@buckeyegamefestivals.com
Bronze Level: $100 Cash/$250 In-Kind (+):
– Acknowledgement & thanks on our website along w/ company logo
– Signage at the con
Silver Level: $250 Cash/$500 In-Kind (+):
– Bronze level benefits
– Social media promotion of your sponsorship on Facebook & Twitter
Gold Level: $750 Cash/$1000 In-Kind (+):
– Silver level benefits
– Direct link to your company website from buckeyegamefest.com
– Free 1/2 page advertisement in our program book
– Your company banner/sign prominently displayed during the convention
             Banner must be no larger than 48″ x 48″ and provided by you
             Banner is subject to review before display
Platinum Level: $2000 Cash/$4000 In-Kind(+):
– Gold level benefits, with 1/2 page ad upgraded to full page
– 4 complimentary Full Show Badges
Convention Lanyard Sponsor: $500-700 Cash (+): (only 1 available)
– Company Name/Logo printed on Name Badge Lanyards given to each attendee
– Company Logo + link to your webpage displayed on our website.
$500 (+) – Single Color + Single Print
$700 (+) – Full Color Logo Print
Swag Bag Sponsor: $750 Cash (+): (only 1 available)
– Company Name/Logo printed on Swag Bag given to each attendee
– Company Logo + link to your webpage displayed on our website.

---

Thank you to all of our 2018 sponsors for your support!
Platinum Sponsors
Origins Game Fair
  Where Gaming Begins! They feature games of every variety: tabletop games, miniatures games, roleplaying games, LARPs, traditional games, collectible card games, and even poker. Origins is held every year at the Greater Columbus Convention Center in beautiful, family-friendly downtown Columbus, OH, USA.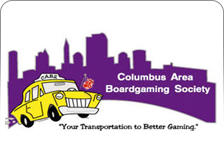 Columbus Area Boardgaming Society (CABS) When thinking boardgaming in Columbus, most people think of CABS. The largest boardgaming club of its kind, CABS caters to over 100 people every weekend with few exceptions at its site in Worthington. Featuring reasonable membership rates, great members, and a fun time, CABS is worth your time if you like to game.

Rio Grande Games. The mission of Rio Grande Games is to promote the playing of games, which offer players choices. Many gamers know at least one of Rio's games featuring English versions of German classic games as well as original American ones as well. Relying less on luck, and more on choices and skills, Rio's games have entertained for ages.
Gold Sponsors

Envoy Double Exposure Often there's a problem in the gaming industry where people don't know how to get together. Double Exposure's Envoy program seeks to solve that problem. Whether you're a game master, convention runner, game publisher, or more, head over to Envoy to see what they can do to help your situation.

PledgeManager Supporting successful Kickstarter backers and their project owners since 2013. Your product, your branding, and our expertise. Data with integrity.
Ravenwood Castle Nestled in the woods of scenic Hocking Hills, Ravenwood Castle provides a charming setting with a medieval flair. Whether you are planning a romantic trip for two or a unique getaway for family and friends, Ravenwood Castle makes for an unforgettable destination.
Shadowbox Live Shadowbox Live® is a non-profit 501(C)3 performance troupe that self-produces a wide range of shows. For over 20 years, this creative force has produced world-class productions, including original rock operas, traditional musicals, fine art exhibits, contemporary dance, and video/television.
Trapped Columbus The official escape room partner of Buckeye Game Fest, Trapped Columbus is the only interactive theater specializing in escape games in central Ohio. Can you use your wits and your team's knowledge to escape?
Silver Sponsors
Barley's Brewing Company  The oldest brewpub in the area, opening in 1992. Award-winning craft ales alongside hearty, satisfying pub cuisine. Ale! Ale! The Gang's All Here! Also featured upstairs, Brewcadia an arcade bar where old school amusement meets downtown culture. Experience the new way to play, no quarters necessary. Drink up & game on! Must be 21 or up to enter.
Broken Token The de facto standard for board game organization, Broken Token provides compact, laser-cut designs to keep your games neat.
Bronze Sponsor
Looney Labs Makers of Fluxx, Pyramid games, and other fun games.